We're seeing a surging demand for ADUs and that lead many homeowners to create modern and stylish exteriors that not just look awesome but also complement to their existing modern house. Some cities require you to make the ADU match the main house. But that doesn't mean you need to limit the design options for your ADUs. That's where SFBayADU comes handy. We're a team of highly talented experts that can give you unlimited possibilities for your next modern ADU unit.
We'll help you with solutions to create modern exterior while staying within your budget and adhereing to the city requirements.
We believe that the ADU must blend well with the main house. That's because in this way, you can improve the overall appearance of your property. In contrast, an ADU that looks different will not help in make a cohesive living space. But don't worry, the architecture and style of your main house has number of features that you can pick and choose to integrate with your ADU and create a visually appealing outlook that's both functional and aesthetically pleasing.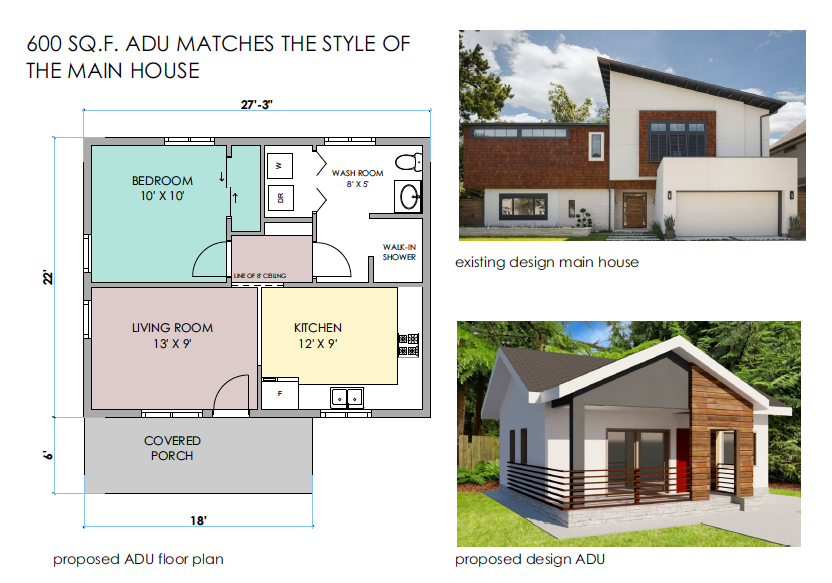 Another great advantage of matching the modern main house is that it can help with the rental potential of the property. Most renters prefer a property with ADU that is aesthetically pleasing and also complements the main house. So, you can be sure to not just attract more renters but can also increase the rental income of your property.
It's a smart investment and you must not be shy at discussing this with our team as we're always open to discuss alternate ways and create something new, sustainable, modern, and epic.
Here're some benefits of creating an ADU that matches a modern main house:
Increased Property Value: obviously an ADU that's functional, awesome-looking and having cohesive appearance increases the overall property value. So, if you're looking to enhance the rental or overall value of your property, try to use unique architectural features like landscape lighting, exterior door, window elements, and siding in your favor. It can further translate into your favor while you're looking to sell your property and are trying to get more value for money.
Energy Efficiency: Modern construction techniques, materials, and methods are energy-efficient and environmentally friendly. Using these materials will not just help you reduce your monthly utility and energy bills but also helps you save money in the long run. It will help you minimize your impact on the environment and earn tax-rebate or be able to win incentives from the local council.
Improved Aesthetics: A creative, cohesive, and harmonious living space help create a seamless experience for the occupants. Such properties are comfy and create a blissful experience for years to come. Using modern landscape features like fountains, pathways, lights, and planters can help you make unique experience of your property. You can easily stand out of the neighbors and create an inviting space for your visitors, friends, and family-members.
Increased Rental Potential: Renters will not fall for a property that's a blot on the landscape. So, if you want to attract more renters or get good rental income; try to complement the design of the main house. You can use the modern features of the main house and take it to the next level of modernity and freshness. Innovative design elements like efficient roofing, double-glazing windows, and modern entrance doors can help you increase rental potential of your property.
Versatility: Whether you want to use your ADU as a guest house, a home office, or a rental unit; you should look for ways to make it versatile and flexible. That's where versatility comes handy. You should not limit your options or stick with only one plan. Rather be creative in terms of your floor plan and incorporate features that help versatility while on the go.
Time to call experts
So, you see creating a modern ADU exterior on a budget is possible. At SBFBay we're striving to help clients creating ADU units that are budget-friendly and functional at the same time. We've got expertise in working with existing floor plans and can provide a sleek and contemporary look while adhering to city regulations. A modern exterior not only adds aesthetic value but also functional benefits such as energy efficiency, potentially attracting more renters or buyers. Contact SFBayADU today to learn more about creating a modern ADU exterior that matches your main house and enhances the value of your property.