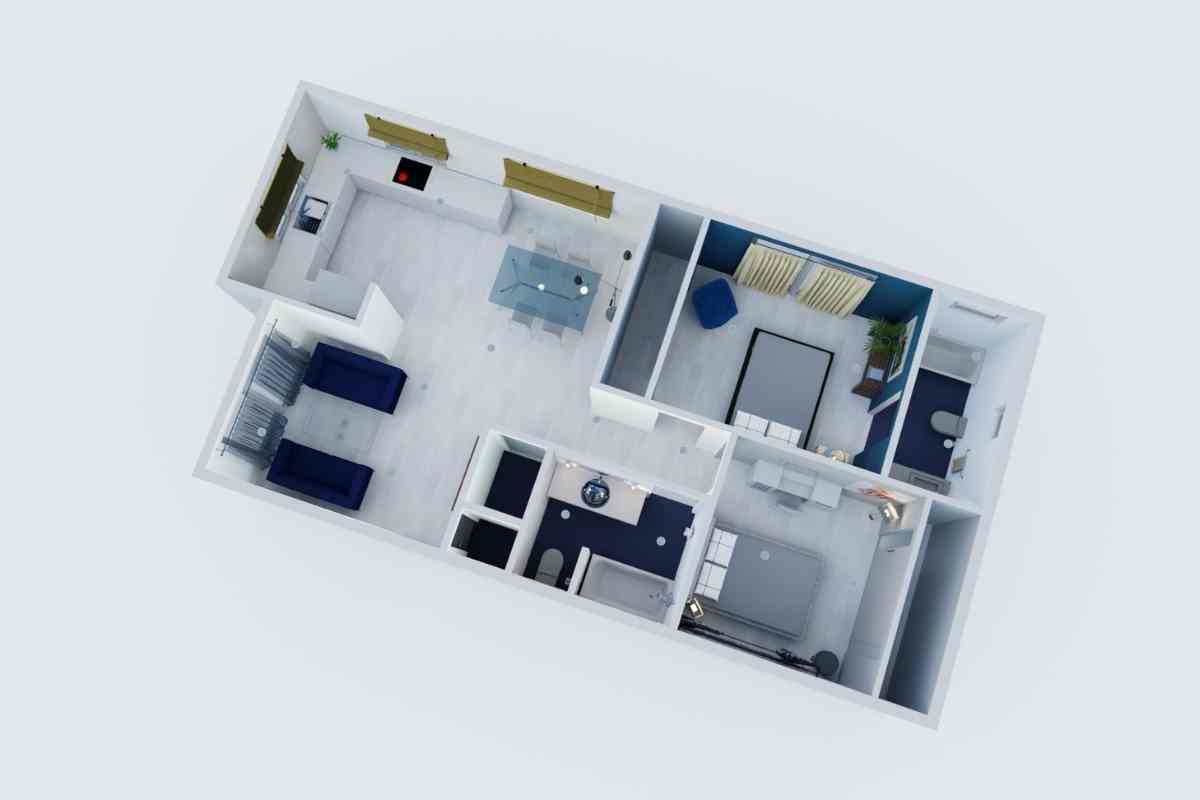 Backyard Homes: 2 bedroom 2 bath ADUs
Accessory Dwelling Units (ADUs) with two bedrooms and two baths have now become an increasingly popular housing trend over recent times. These smaller living spaces provide budget-conscious families with ample space, without breaking the bank in terms of monthly mortgage payments or property taxes.
We will explore some benefits associated with 2 Bedroom 2 Bath ADUs such as their affordability relative to larger homes, their pros/cons when building one, how best to plan for such a budget project, duration and timing requirements as well as some potential floor plan solutions in this article.
Affordable Residential Dwelling Unit (ADU) Construction
The costs associated with creating a 2 Bedroom 2 Bath ADU tend to be considerably less than building larger houses due to smaller construction needs requiring fewer materials, labor hours, and timeline.
Furthermore, ADUs typically built on existing properties may save homeowners the hassle of purchasing additional land at purchase price.
Compare 2 Bedroom 2 Bath ADUs With Larger Houses
Although the ADUs of such a size may not provide as much living space as larger homes, but they still provide enough for most individuals and families. These units are designed for comfort and functionality with open floor plans that maximize living area. Here're some pros to consider:
Adding more living space on existing properties - especially useful for families outgrowing their current living situation, yet preferring not to move.
Affordable: Accessory Dwelling Units (ADUs) offer an economical way to increase living space on any property. Being typically smaller than traditional houses, ADUs require fewer materials and labor for construction; in addition, renting them out can provide homeowners with a source of rental income to offset some of their construction expenses.
Ease of Construction: They tend to be easier and quicker to construct than traditional homes, due to prefabricated materials that speed up construction time and lower costs.
Easy Maintenance: ADUs are specifically designed to be easy to keep up with, featuring fewer rooms that need less upkeep than larger homes.
Plan It Easily: Accessory Dwelling Units are relatively straightforward to plan and design. Their flexibility enables homeowners to tailor the space according to their own individual needs and budget, with numerous styles and configurations to choose from.
Environmentally Friendly: They're made using sustainable materials and energy-saving systems that help lower their homeowners' carbon footprints.
More Value for Your Money: They can add substantial value to any property. They provide additional living space, rental income and increase overall property value - not to mention being more cost effective than building traditional homes or adding on extensions to an existing house - providing great returns for owners!
Rental income generated from ADUs may help offset some of its construction costs.
Construction Time
The length of time it takes to construct an ADU of two bedrooms and two baths will depend on several factors, including its complexity, material availability, weather considerations and weather. On average however, building an ADU takes less time than constructing larger homes.
Why SFBayADU?
We're a team of creative and experienced individuals who're best in town offering all services related to ADUs. Here're the reasons why homeowners trust our services:
SFBayADU offers expertise in ADU construction. Our experienced designers and builders understand the challenges associated with building ADUs on existing properties, creating spaces that meet both homeowner needs and local building codes and regulations.
We focus on affordability: SFBayADU prides itself on offering quality ADUs at an affordable price that meet the needs of their homeowners. Understanding that building an ADU may require significant financial commitment, we work closely with homeowners to design spaces within their budgets.
Quality craftsmanship: We takes great pride in their work and is committed to providing high-quality craftsmanship on every project we complete. Utilizing only top quality materials and working with experienced subcontractors ensure that every aspect of a project meets or surpasses industry standards.
Transparency Pricing: We offers clear pricing for services, working closely with homeowners to develop a budget that fits their needs. We also provide detailed estimates for every aspect of a project so homeowners know exactly what is expected from them.
Excellence Customer Service: We're striving to ensure outstanding customer service throughout every stage of a project, from design through construction and final inspection. Their attentive staff responds promptly to homeowner needs and questions while remaining committed to ensuring each project meets with satisfaction for each homeowner.