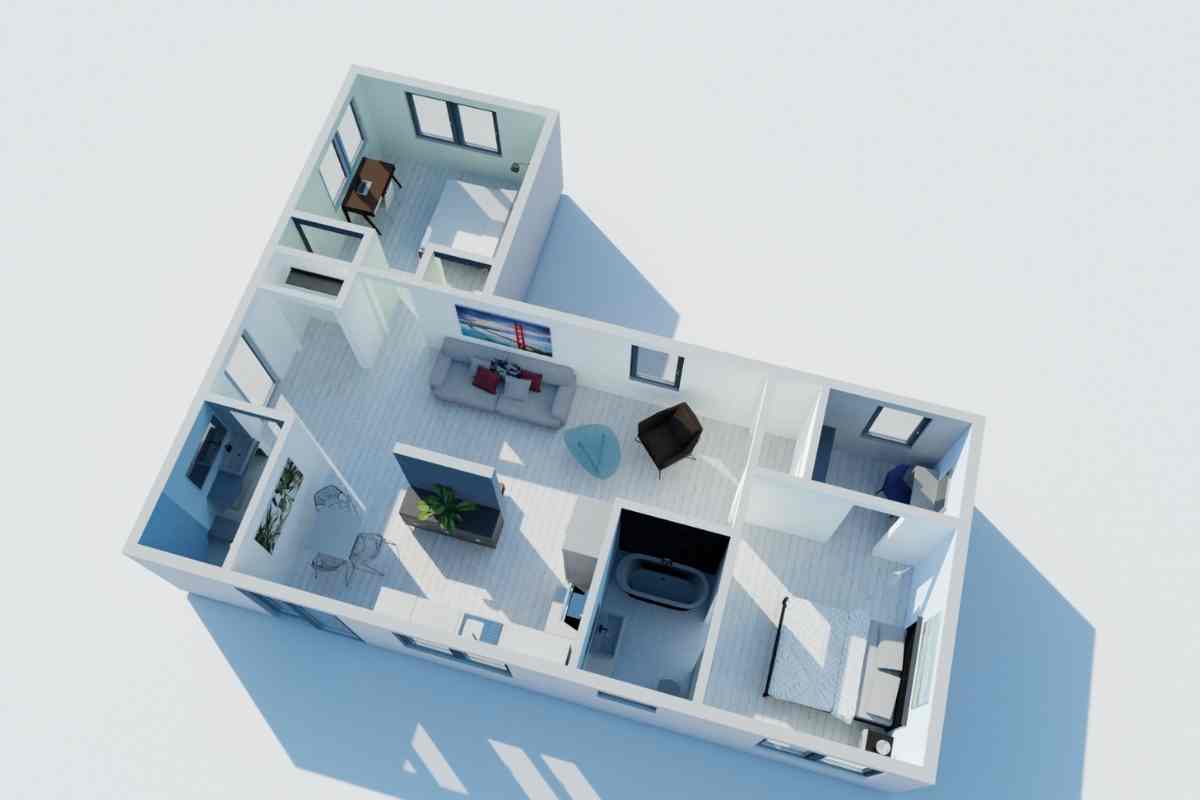 Backyard Homes: 1200 Sq Ft house plans are designed as accessory dwelling units
Welcome to SFBayADU, where we specialize in crafting beautiful, functional and cost-effective 1200 sqft ADUs. Are you considering expanding the living space on your property but unsure how to go about doing it? Look no further than us; SFBayADU provides expert design and construction services so that we can build your ideal ADU!
Let's start off by answering a pressing question:
Can 1200 square feet fit three bedrooms?
Ultimately, that depends on your personal needs and preferences - an ADU typically accommodates 2-4 bedrooms although more may or less can be created depending on its layout and design.
Now, you may be asking:
Is a 1200 Square Feet ADU big enough?
In terms of ADU sizes, 1200 sq ft falls into the medium-sized range; though not as spacious as traditional homes, this space provides sufficient living space for individuals or small families alike.
Similar to your question regarding ADUs, 1200 sq ft may seem like a small house. While smaller than an average-sized single-family home, many find a 1200 sq ft ADU provides plenty of room without feeling cramped or restricted.
Why SFBayADU?
At SFBayADU, we believe offering our customer with cost-effective and high quality ADU construction services. We duly understand that it take immense time and financial commitment for building an ADU. So, we offer experienced designers and builders that are known to work closely with you. They'll never throw their decisions at you; rather they'll listen to you and tailor the plans to suit your budget and individual needs.
No matter the size of the ADU, we take great pride in our expertise in construction, use of top-quality materials and using efficient methods to produce durable, functional structures that look beautiful as well. Furthermore, we offer various design options including modern and traditional styles as well as customizable floor plans for you.
How long does it take to build a 1200 sq. ft ADU?
On average, it should take anywhere between six months and 12 months depending on the complexity and timing of your project as well as any delays with permitting procedures or delays in building practices; however our efficient construction process allows us to deliver your ADU both on time and within budget.
Here's a typical timeline for projects of this size:
The initial stages for your ADU project require careful thought, as this step includes analyzing your needs, budget, zoning or permit requirements, and selecting an aesthetic design.
Design (2-4 weeks): The design process begins as soon as the planning has been completed, the scope has been finalized, and negotiation with our client is completed. Designing involves creating detailed plans, elevations, and sections of the ADU. These documents further help in securing necessary permits and making sure that everything complies with relevant building codes and regulations.
Arrival of Materials (1 to 2 Weeks): Once the design is final and we know the materials we need for the project. We start ordering and delivering necessary materials at the job site. This step takes around a couple of weeks but it more depends on the availability of material and market conditions.
Structure Work (4-6 weeks): Once the foundation is in place, work can begin on framing, roofing and installing doors and windows for your ADU. Timing may differ depending on its size and complexity.
Flooring & Painting (2-4 weeks): Once construction work has been completed, flooring and painting will take place. This involves installing flooring, painting walls and installing any fixtures or appliances; timeline for this step depends upon type of flooring/paint chosen.
Finishing (2-4 weeks): To complete the renovation project, the finishing touches such as electrical and plumbing work, installing lighting fixtures and cabinets and making sure everything functions as intended are added
Closing (1-2 weeks): Once construction is complete, an inspection will take place to make sure that everything conforms with building codes and regulations before handing the ADU over for occupancy.
Just act quickly!
Are you in the market for adding living space to your property? Look no further! When considering ADUs from SFBayADU, one 1200 sq ft ADU might just be what's needed to meet all of your unique needs while staying within budget. Contact us now and learn more about how we can bring your dreams of an ADU home!