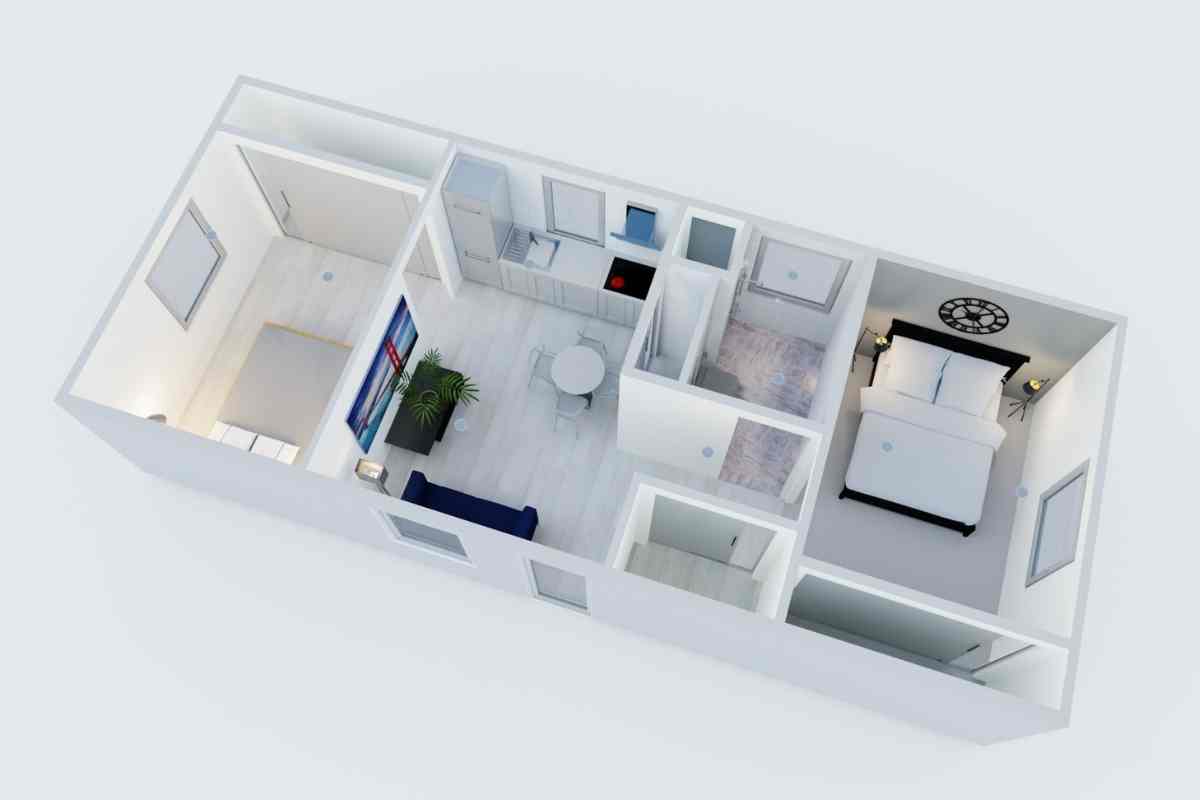 Backyard Homes: One bedroom, One bath ADUs
Are you searching for a comfy yet budget-conscious backyard home to accommodate one person or a family? A one-bedroom, one-bath ADU might be a perfect pick. These budget-friendly homes make excellent options for homeowners working with limited space or don't have a fortune to spend.
With the cost of construction and living on the surge; a lot of people are looking for ways to either grow in their existing properties or earn revenue by constructing and renting ADUs. Individuals and families are struggling to find adequate housing options and that's where ADUs are offered as a solution.
Here's why a one-bedroom, one-bath ADU is a perfect option.
Why one bedroom, one-bath is an ideal fit?
One-bedroom and one-bath ADUs provide all of the essential amenities for a person or small family requires in order to live comfortably, from private bedrooms and bathrooms, a cozy yet functional living space that's great to live with easy maintenance, energy efficiency and maintenance costs savings compared to larger houses. Plus, its smaller size makes this type of backyard home ideal for individuals seeking their privacy as they have their own space tucked away!
What are some Benefits?
The biggest pro of choosing this type of ADU is budget-friendliness compared to larger models with multiple rooms and baths. By keeping design straightforward yet functional, homeowners can save on construction costs without compromising style or quality; making this ideal choice for homeowners wanting an inexpensive backyard home addition without breaking their budgets. A smaller footprint will be much easier to maintain and bear cost of.
SFBayADU can assist if you're considering building an ADU of one bedroom and one bath with ease. Our team of expert designers and builders specialize in crafting stylish ADUs that suit the individual needs and preferences of our clients, so let us make the planning and designing of your backyard home fun!
How to plan for your next ADU Project?
Planning for an ADU requires considering several key factors. First, determine your available property space that satisfies ADU regulations; next consider design/layout considerations in relation to bedroom placement as well as living and dining area design/layout preferences - our team is on hand to guide these decisions to create the ideal one-bedroom/one bath ADU solution tailored specifically for you!
An ADU provides many benefits beyond affordability and energy efficiency; from serving as guest rooms or rental properties to housing elderly relatives. Furthermore, ADUs can serve as home offices or workout studios that provide quiet environments separate from main houses - adding value and increasing marketability of property investments.
Trust in us to build something truly remarkable
At SFBayADU, our aim is to deliver functional yet budget-conscious backyard living solutions at competitive rates. By working together we ensure every project meets our stringent quality and attention-to-detail standards - our team can work closely with you on crafting an ADU to suit all of your specific requirements and specifications. Get in touch today to discover more of how SFBayADU can assist in realizing this dream for yourself!